OEM/EMS Projects
OEM/EMS Projects
Customers define the products specification, Customers Research, develop and engineering the products, Bointec helps production engineering conduct to factory manufacturing.

ODM Projects
Customer defines the products specification, Bointec Researches, develops and engineering the products, also helps production engineering conduct to factory manufacturing.

EMS Experience
Specialized on factory management
Production engineering on data-communication products
Lower cost of quality EMS services with higher production quality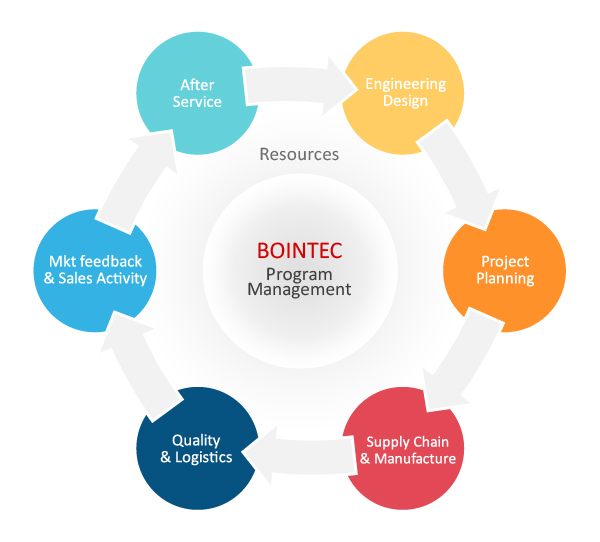 Project Management
Work close with project owner(customer) and engineer team
Project oriented / full control on every detail of project
Engineering Design Service Projects
Customer requests for products by an idea or roughly specification, Bointec helps on products design and engineering.
Core Confidence
3G/4G network
Industrial design Std
Radio
Embedded software platform
Software application
System test networking industrial Std
Integration
Production
3G/4G network
Bointec 3G/4G communication technology since 2.5G , GSM extend to HSPA, over years HSDPA/HSUPAsoftware and hardware engineering development key technology.
Work close with chipset design house , first hand support from chipset design team.
Bointec familiar with 3G/4G chipset programming, develop and firmware modification Proven product in Europan countries public transportation vehicles
Industrial design Std
Bointec works on outdoor application for over 8 years, we design industrial standard hardware circuit.
Experience with 12V~36V vehicle DC power , production and endurance.
Bointec design Vehicle Computer for 5 years. OEM for Canadian IPC company.
Integration
Strong embedded system design team and OEM service team.
System analysis and project management are fully handled.
Micro-control on hardware to software system platform, protocol and programming integration.
Bointec design quality management has been approved from Baxter, USA in year 2010.
Production
Bointec equip with RF device production test fixture, automatic test equipment and program testing.
All production document and test plan will transfter to Client in the future.